It's been a long time - but Kiwi IRC has now been updated with some awesome new features. Making IRC easier to use and more accessible to everybody, we are bringing IRC to the modern day.
Translations
Thanks to people worldwide using Kiwi IRC, we now have 25 different languages including:
Albanian, Bosnian, Catalan, Čeština, Deutsch, English, Español, Español (Latino America), Français, Greek, Hebrew, Italiano, Korean, Македонски, Nederlands, Norsk, Polski, Português (Brasil), Română, русский, Srpski, Türkçe, Українська, Tiếng Việt, 中文 (繁體) (Simplified Chinese)
More information on translations can be found here.
Themes
Since Kiwi IRC aims to bring IRC to the modern world it also needs themes that are better suited. The most popular themes have gone through some polish and now look awesome.
Quick note: If you have an eye for modern web design and interested in making Kiwi IRC look even better, please get involved! Kiwi is an open source project in desperate need for designers.
The default, "relaxed" theme:
The dark, "CLI" theme: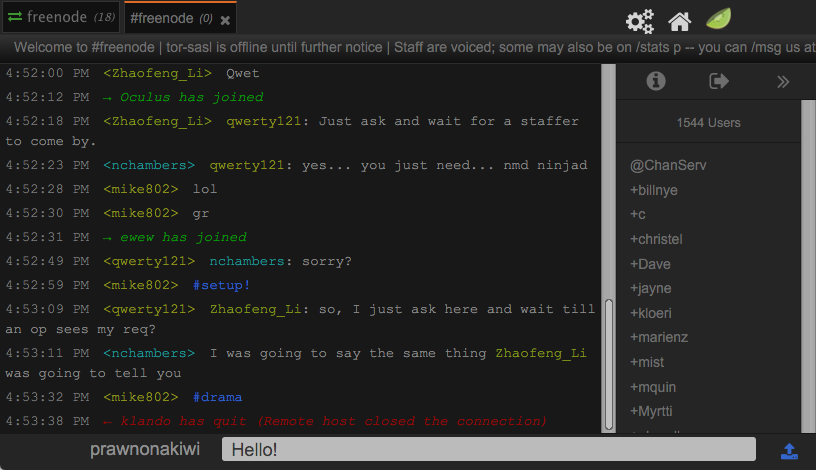 Mobile support
A large number of people now try to access IRC on their mobile devices. And why wouldn't they - mobile internet use is becoming the main method to browse the web.
Kiwi has always supported the mobile but we have now made it work even better. From responsive messages to collapsing nick lists, the whole layout automatically re-arranges itself to best suit the way it is being used.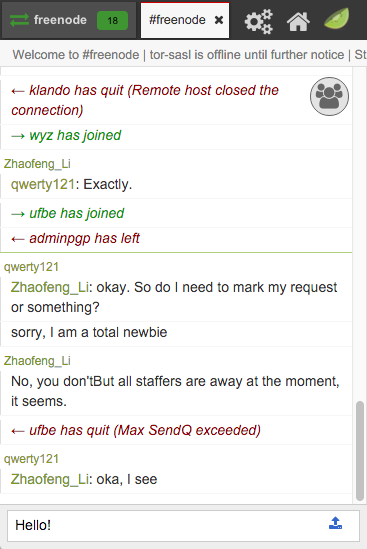 Auto complete
IRC is well known to be confusing for newcomers. Everything is text based and requires memorising commands. People shouldn't have to think too much about the client they are using or be memorising commands, we have better things to be thinking about.
To help people new to IRC we have now included a great command list with descriptions on what each one does. This opens up as soon as you type the / character. For people that know all these commands already it can be simply disabled via the settings.

Custom highlights
You can now be alerted to any message you have an interest in, even if you're not paying attention to all your channels. Perhaps you want to know when somebody mentions your name in a channel you are in, or a project you are working on.
In the settings window you can now enter as many words you wish to be alerted to.
Soundcloud integration
Many types of URLs can be embedded into messages. Contributed by a Soundcloud developer directly, we now also have the Soundcloud player embedded! (As usual, embeds only appear if you click to do so - we don't want to be loading anything unless you request it)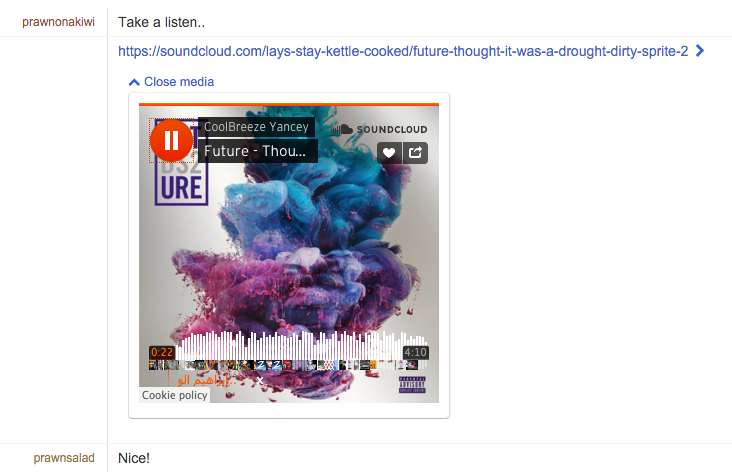 What's next?
They are just some of the large new features in this new release of Kiwi IRC. There are hundreds of bug fixes contributed by many developers that volunteer time to improve the project. A thanks to all!
There is now an effort to make the Kiwi IRC project easier to build on. This includes a major styling and code cleanup task which is already well underway, and will make ideas such as a theme library for everybody to share themes possible.
Extra interface updates will be appearing with the aim to make general IRC usage possible for newcomers. Finding and joining channels, maintaining simple channels and registering user accounts with services should all be possible without having to learn commands.